Danbo
Danbo arrived today!
It's a cardboard box roboter and appeared in the Yotsuba&! manga by Kiyohiko Azuma. There are several other names for Danbo like Danboard and Danboru but Danbo is the name used in the manga.

The Danbo I use for photography is the, about 8 cm tall, amazon.co.jp mini Danbo version.

This little guy's going to be the model of many future photos.

Have a look at Danbo's gallery.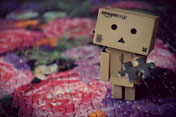 ---